Mats 19/06: Jag var också där, på Olympen i Lund. Minns förbandet Tom Petty & The Heartbreak...
Mats 19/06: Hej, Bra och intressant som det mesta du skriver måste dock protestera när du sk...
Perre 7/06: Klockren analys av plattan som i mitt tycke är hans starkaste ögonblick Konsert...
Jan Lennell 3/06: Tack för en intressant redogörelse för ett fantastiskt album. Hörde det första g...
Björn Pettersson 31/05: Minnet är gott men kort, Tom Petty var förband vid konserten 1977😔...
Björn Pettersson 31/05: Jag var också på konserten 1976 och minns också det då lite okända förbandet Tom...
Björn 3+7=11 23/05: Bra jobbat redaktören, så var det där med en egen "Bloggkategori" för Magnus Lin...
Arkel 7/05: Re: Minnen spelar spratt - eller????. För 10 000 år sen var jag på Malmen och h...
Zoli 6/05: Hej, Little Richards skivbolag hette inte Speciality utan Specialty. Alltså, a...
Uffe Ericson 5/04: The Searchers gjorde sin absolut sista live spelning den 31 mars i år och har n...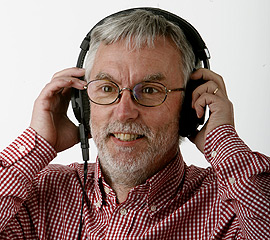 Jag är född 1952. Skrev min första recension i januari 1970. Har medverkat regelbundet i Nerikes Allehanda i över 45 år med recensioner, krönikor, artiklar och intervjuer. I nästan samtliga fall har det handlat om musik och ur mitt långa liv som skribent har jag hämtat många anekdoter som kommer förekomma här. Med popmusikens historia som grund berättar jag också om egna erfarenheter under den långa resan. Från 50-talet till idag. Plus utförliga recensioner av både konserter, skivor, dvd och böcker. Vill du/ni få er senaste skiva recenserad? Mejla mig, så får ni adress. Håkans Pop hade premiär 22 augusti 2007 och har sedan fyllts på med både nyskrivna artiklar och arkivmaterial från 1971 och framåt.
E-posta mig.